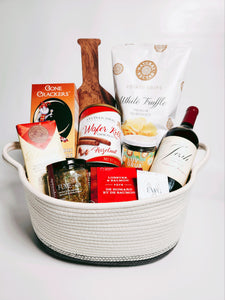 This basket is a party on it's own! Grazing goods, cutting board and red wine are the perfect combo for a welcome home or to bring to a party!
You can only order 1 basket at the time on our online store. To order multiple baskets, or inquire about delivery, or if this option shows "sold out" contact us at 604-939-6200 or info@edenwestgourmet.ca. 
Note that if some of the products in the picture are out of stock, they will be replaced by other locally made products and the price of the basket at the time of purchase will reflect the change. Contact us if you need details on the products included.
Adds on available (add to your cart and we will include them with your gift basket):