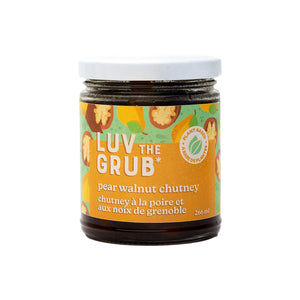 266ml. Vegan. Gf.
Rescued produce in every jar: 0.5 Pears. Learn more about the "ugly fruits" rescue program: https://luvthegrub.com/pages/about
Vegan | Gluten-Free
A cheese lovers dream; our pear walnut chutney pairs beautifully with manchego, goat cheese as well as some nutty crackers. Full of flavour our pear walnut chutney is made with pears, red onions, raisins, walnuts as well spiced with some cayenne pepper.
Ingredients: Pears, Apple cider vinegar, Brown sugar, Red onions, Raisins, Walnuts, Ginger, Salt, Garlic, Cinnamon, Cayenne, Citric acid, Star anise.
Contains: walnuts
May contain: tree nuts
Made in Vancouver, BC