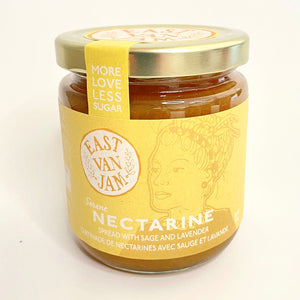 250ml. Vegan. Gf.
Quiet and pensive, Serene is staunchly independent, self-sufficient and practices loving kindness everywhere she goes. Wise beyond her years she relies on a simmered hint of sage to keep her grounded and the calming influence of lavender.
Best enjoyed on a thick slice of freshly baked bread atop a layer of butter.
Ingredients:
Okanagan Nectarines
organic cane sugar
pure lemon juice
pectin
lavender flowers
sage
citric acid 
Made in Burnaby, BC.