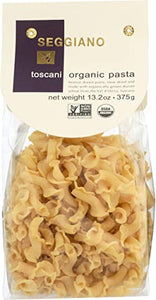 375 gr
Seggiano pasta is made using premium, high density, 100% Tuscan organic durum wheat, grown in the untouched Orcia Valley of southern Tuscany. It's slow-dried at a low temperature, for fantastic firm consistency and excellent flavour.
Our pasta is bronze drawn, giving it a more porous, matte texture that binds flawlessly to sauces. Toscani, or Tuscans, are sometimes called gigli, or lilies, which they roughly resemble. Their frills are great for holding chunky sauces, like puttanesca.
Made from a certified organic Tuscan wheat, the pasta is slow dried and formed using bronze moulds.
From wheat fully traceable to the farm where it was grown
Organic premium 100% Tuscan durum wheat for best flavour
Bronze drawn for bonding perfectly with sauces
Slow low temperature drying for excellent consistency
ingredients
Organically grown Tuscan durum WHEAT semolina*. *organic ingredient
PRODUCT ORIGIN: Toscana, Italy