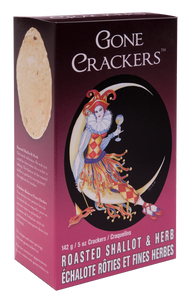 142 gr. Vegan.
Ingredients: Wheat flour, shallots, olive oil, sea salt, herbs, seasoning.
One word: delicious. We wish you could be there when this cracker is baking. The flavor of the roasted shallot is perfectly incorporated throughout the cracker.
 Suggested White Wine Pairings: Chardonnay, Riesling
Suggested Red Wine Pairings: A hearty red
Suggested Food Pairing: Strong cheeses, pates, antipastos, hummus, soups or stews
Gone Crackers are the purveyors of the most delicious gourmet crackers. Made on the West Coast of Canada without using any of the not-so-great stuff like hydrogenated oils, yeast, or sugar, their team's focus has always been on using the highest quality ingredients with an artisanal flair to produce fine food. Amazing on their own, Gone Crackers are also wonderful paired with a variety of wines and cheeses, as well as charcuterie, spreads, soups and salads. We are sure you will taste the craftmanship in each of the crackers.
The strong support of their people and their endless dedication to Gone Crackers is what makes them a very distinct and amazing place to work. The end result – the best cracker you will ever taste! All of this is encompassed in their Mission, Vision, and Beliefs.
Made in Surrey, BC, Canada