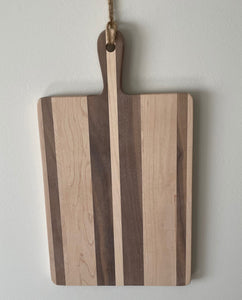 15″ Long x 8." Wide x 3/4″ Thick
. 

Maple and Black Walnut
The boards have been conditioned with a 100% food safe mineral oil bath and then finished with a 100% food safe balm made using organic bees was and mineral oil. The boards should be cleaned with warm water and mild detergent using a moist cloth. The boards should not be immersed / soaked in water and definitely should not be put in the dishwasher. Ideally owners should apply cutting board finishing oil or balm every month or two to keep ensure their board lasts for many, many years.
Made in Fairmont Hot Springs, BC, by Boards and Benches