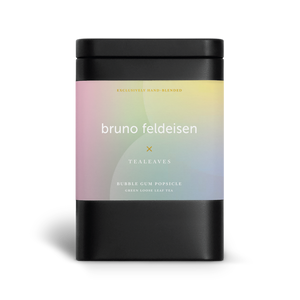 100gr tin
LOOSE LEAF TEA | GREEN
Exclusive collaboration with Chef Bruno Feldeisen. This sun-kissed palate of sweet-tart passion fruit, lychee, and juicy pineapple is playfully nostalgic. Exceptional hot or over ice, or infused in a delicious panna cotta, it is the quintessential summer party favor!
Inspired by the sweetness of summer, Chef Bruno Feldeisen reflected on childhood memories of long hot days on the beach, chewing pink bubble gum, and indulging on sweet popsicles that melted faster than they could be eaten. As a dear friend of the TEALEAVES family, we have had the pleasure of collaborating with Chef Bruno Feldeisen for over two decades. Creating a custom tea blend together felt like the perfect celebration of our friendship to date - sharing stories and reflecting on simple, sun-filled days of youth, capturing the flavor, aroma, and mood of summer.
Chef Bruno Feldeisen is an award winning pastry chef, restaurateur, author, and judge on CBC's The Great Canadian Baking Show.
BLENDING NOTES
AROMA

 

Fruity, fresh, inviting

PALATE

 

Bubble gum

PURPOSE

 

Summer romance
Made in Canada
Ingredients: Green tea, passionfruit, lychee, pineapple