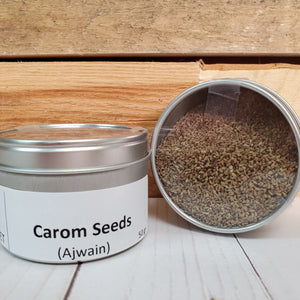 50 gr
Very sharp yet with only a somewhat-bitter flavour, Carom seeds are not seeds. Shocking, I know; but they are actually fruits which we, in our ignorance, have accepted as seed.
Like cumin, Bishop's weed (another name for Ajwain) is harvested by rooting out the entire plant, drying them in bundles and then threshing it to separate the fruit.
By fragrance, a lot of people confuse the spice with thyme because both have the same aromatic oil – thymol. You can say ajwain is the less subtle cousin of thyme as it has a stronger scent.
When you want to boost digestibility, you add turmeric to a recipe. Ayurveda taught us this and western medicine hammered in the fact. What's astounding is that carom seeds rival Haldi. The right dose of Ajwain is a strong cleanser that really gets the appetite going.
Sprinkle to any dish you feel is too rich to digest and carom seeds will do their wonders by warming up cold digestion.