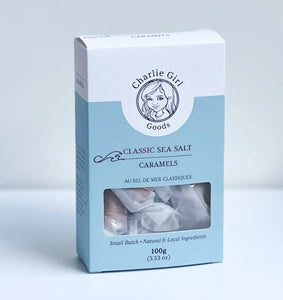 100g. GF.
Our Classic Sea Salt Caramel is the perfect combination of salty and sweet that you won't be able to resist!
Enjoy the creamy texture of our caramels, individually wrapped by hand to ensure the highest quality. We take pride in making our caramels in small batches from scratch using only the best natural ingredients.
With no artificial colours or flavours, our caramels are always the perfect treat for any occasion. Get your hands on some Classic Sea Salt Caramels today and experience the classic taste of an old-fashioned treat.
Ingredients: Sugar, Butter, Condensed Milk, Light Corn Syrup, Pure Vanilla Extract, Sea Salt.
Charlie Girl Goods is a small business based out of beautiful Deep Cove in North Vancouver, BC. With a love for all things sugary sweet, we created the perfect hand made old fashioned caramel from scratch and now we want to share the caramel love with you.
At Charlie Girl we like to keep things simple, by focusing on using only natural ingredients and the small batch process.