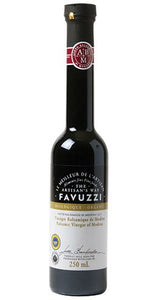 250 ml
Bright and zesty, its flavour reveals notes of oak, caramel and blackberry. Dark caramel in colour, this vinegar's fluid texture makes it the perfect condiment for everyday use.
With a greater wine vinegar/grape must ratio, it is ideal  for everyday use.
Ingredients: Organic wine vinegar, organic concentrate grape must. No allergens. No GMO's.
Origin: Modena, Emilia-Romagna, Italy.