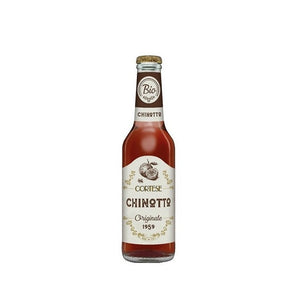 580ml
The Ligurian chinotto pleasantly sweetamaro. The typical drink of the national tradition, with a dark color and a full and intense flavor, is obtained thanks to a skilful balance of ingredients. Loved by Italian consumers, it has become with the passage of time a pleasant discovery at an international level. The harmony and naturalness of the ingredients make the Chinotto Cortese original 1959 pleasant and thirst-quenching, suitable for different times of the day.
 Carbonated soft drink produced from the juice of the fruit of the myrtle-leaved orange tree (Citrus myrtifolia).[1] The beverage is dark in color. Its appearance is similar to that of cola, but not as sweet, having a bittersweet taste.
 Ingredients: Water, Cane Sugar, Burnt Sugar, Carbon dioxide, Natural favorings , Natural Chinotto extract (0,5%), Acidifying: Citric acid, Orthophosphoric acid, Preservatives: Sodium benzoate.
Made in Italy