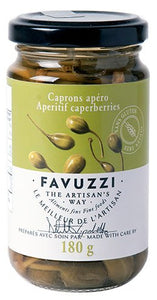 180 gr. 
Our caperberries are marinated in a sweet prosecco syrup with a hint of vinegar. Their firm, crunchy flesh pops under the teeth, revealing a surprising tangy caramelized flavour.
Uses
Deliciously sweet, our caperberries are a superb complement to charcuterie and cheese platters. Serve them as a hors d'oeuvre instead of olives and pickles, or chop them finely into a beef or salmon tartare. They will add a hint of sweetness to your smoked salmon bagels.
Ingredients: Caperberries 60%, prosecco wine, white wine vinegar, sugar, sea salt, citric acid.
May contain: Milk, fish, nuts, almonds, peanuts, pine nuts.