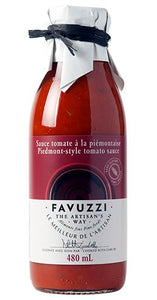 480ml. 
Made with crushed tomatoes, our comforting Piedmont-style sauce is enhanced by bold red wine flavours, balanced acidity and a peppery finish.
Piedmont-style sauce is typically served with fettucine, tagliatelle, gnocchi or stuffed pasta such as agnolotti. Turn it into a delicious ragù by adding sausage meat or ground meat. Average proportions are 375 mL (1 ½ cup) tomato sauce for 500 g (1 lb) pasta. Don't throw away all your pasta cooking water: it's a good idea to add a bit to your sauce. Mix in ¼ to ½ cup (or a ladleful) cooking water with the sauce before adding the pasta. The salted, starchy water will enhance flavours and thicken the sauce, helping it stick to the pasta.
Ingredients: Tomato pulp and sieved datterino tomatoes 88% (Italy), extra virgin olive oil, Barbera red wine, onion, carrots, celery, sea salt, spices, citric acid. Does not contain alcohol. May contain traces of milk, pine nuts.