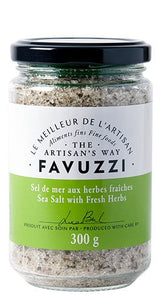 300gr
Description
These grains of sea salt are infused with intense fresh rosemary aromas and woodsy sage notes, complemented with a hint of pepper.
Ingredients: Sea salt, rosemary, garlic, sage, black pepper.
Uses
We're willing to bet our herbal sea salt will replace plain salt on your table! As delicious as it is versatile, it will enhance your pork chops and grilled chicken recipes as well as your soups and mashed potatoes.
Distinctives attributes
Sourced from the Italian island of Sardinia, our sea salt is infused with fresh herbs rather than dried ones, unlike many of our competitors' products.