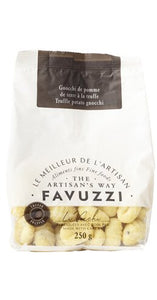 250gr
Description
The next time you're searching for an exquisite dish that will leave a lasting impression, look no further than Favuzzi's artisanal potato gnocchi with black truffles. This tantalizing delight combines Italian truffles from the hills of Tuscany with delectable potato gnocchi to create a flavor combination that's sure to make your taste buds sing. Perfectly balanced, these high-quality ingredients are a match made in heaven, making it the perfect centerpiece for your next lavish dinner or side dish for a more casual affair. Treat yourself and your loved ones to this unique gastronomic experience; you won't be disappointed!
Uses
Gnocchi are the perfect pasta for a comforting dish. But it is also an incredibly versatile type of pasta. They are also excellent in salads or soup. Plus, gnocchi make some great and filling side dish. You can even try to switch your classic perogies for gnocchi next time!
Distinctives attributes
Before being processed, the gnocchi mixture is first heated on the fire, which provides our gnocchi with incomparable lightness and digestibility. It also prevents stickyness.
Origin
Prato, Toscany, Italy
Ingredients
Potato flakes (water, dehydrated potato flakes), 00 Soft wheat flour, Potato starch, Summer truffle (Tuber aestivum Vitt., water, salt) 2.53 %, Flavour,  Salt, Acidity regulator: citric acid, Preservative: sorbic acid.
Contains: Wheat.