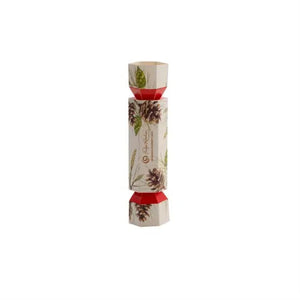 65 gr.  
Fudge Kitchen's Christmas Crackers are perfectly sized, sweet, seasonal sensations for slipping into a stocking. Try saying that after a couple of egg nogs …

If you're crackers for fudge then impress your guests with award-winning, gourmet fresh fudge made to order, using only natural ingredients and no preservatives, giving a creamy soft texture and incredible flavour.
Hang them on a tree, stick them in a stocking, pop them in a poinsettia. Each cracker-shaped box pulls open to reveal three generous squares of real-deal, hand made fudge by the UK's oldest fudge specialist. With Sea Salted Caramel, Chocolate Orange and Speculoos … and no silly hats! The cracker boxes are not permanently sealed, allowing you to add your own messages inside if you wish to.
Each cracker contains three fudges;
Sea Salted Caramel Fudge,
Speculoos Fudge,
Chocolate Orange Fudge