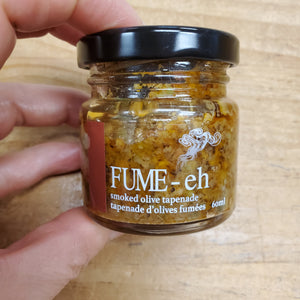 60ml. Vegan. Gf. Perfect size to try, or grab and go!
The tapenade is made using the smoked pitted Castelvetranos, sundried tomatoes, capers, lemon juice, olive oil, garlic.
The smoke flavour is subtle but lends a balance to the salty tart flavours from the lemon juice, sundried tomatoes and capers.
Amazing served simply with crackers and chevre or step it up and stuff a chicken breast and wrap it with prosciutto.
This tapenade is a versatile condiment that is bursting with flavour.