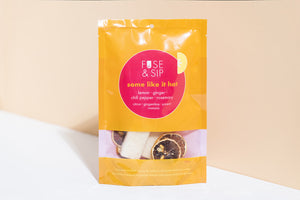 If a Moscow mule and a Dark and Stormy had a baby it would be this drink.  Were packing the heat in this drink with  lemons, chili peppers, ginger, rosemary & organic cane sugar.  
Suggested infusion; gin, whisky, bourbon or water
How
Each infusion package makes 8-10 drinks and contains approximately 5 grams of sugar or 20 calories per serving.  Compare that to a simple glass of juice at approximately 30 grams or 120 calories.
You can remove the ingredients and infuse one more time, just note that the flavors might be slightly muted the second time round. 
See images for ingredients and how to instructions.
Made in Squamish, BC, Canada.