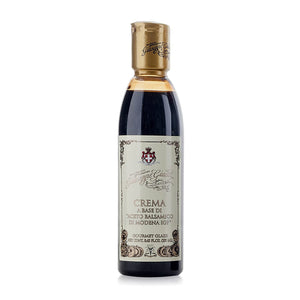 250 ml
ITALIAN MADE - Premium gourmet balsamic glaze made in Modena, Italy by Giuseppe Giusti, the longest-running and most prestigious vinegar producer in the world.
ALL-NATURAL INGREDIENTS - This natural balsamic glaze is a reduction of balsamic vinegar from Modena P.G.I.
FLAVORFUL - Our classic balsamic reduction creates a rich, flavorful, thick and syrup-like glaze.
DRIZZLE ON EVERYTHING - Balsamic vinegar reduction is excellent on fruit, desserts, aged cheese, grilled meats, vegetables, and salads.
AUTHENTIC - Our balsamic vinegar glaze is made with Aceto Balsamico Di Modena IGP, this is an authentic crema di balsamico made in and with ingredients of Modena, Italy.
Ingredients: vinegar de Modena, glucose syrup, grape must modified corn starch. Contains sulphites.