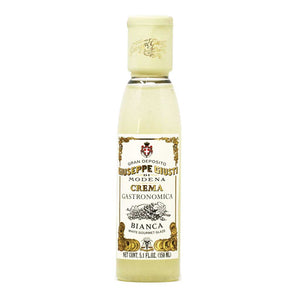 150 ml
Giuseppe Giusti's white balsamic glaze obtained by heating the balsamic vinegar and adding corn starch and more cooked grape must, thereby becoming a reduction. Perfect balance between moderate acidity and sweetness.
Tasting Suggestions:
Perfect as a garnish or as an ingredient in any dish from entree to dessert.

Ingredients: White condiment 71% (white wine vinegar, white grape must), glucose syrup, modified corn starch. Contains sulphites.