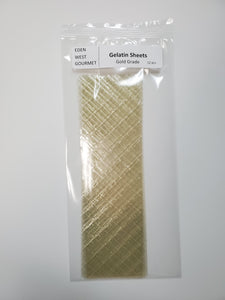 10 sheets, 20 gr
EASY TO USE – These sheets are easy to measure for the amount you need in your dish. When you have the right amount, simply soak them in cold water for 5 minutes then squeeze them gently. When preparing a hot dish, place the resulting gelatine into the hot ingredients and it will instantly dissolve. When cooking a cold dish, dissolve the resulting gelatine in some hot water and then stir your cold ingredients into it.

GOLD GRADE – The gold grade has a bloom strength of 200, which is higher than silver grade and lower than platinum grade. The gold rating means your dish will set firmly.

HIGH QUALITY – Professional chefs choose leaf gelatine over powdered gelatine for many reasons. Not only is it easy to measure and use but it produces better results. The dishes have a smoother consistency and set much clearer.

A DISCREET INGREDIENT – Leaf gelatine is an odourless and colourless product. The thickening agent is also tasteless so it firms your dishes without negatively affecting the resulting flavours or aesthetics.

VERSATILE – Use this gold grade leaf gelatine to thicken a cold soup, enhance a glaze, set a jelly or bavarois, firm a mousse or make some marshmallows.
Ingredients: Pure pork gelatine
Made in Germany