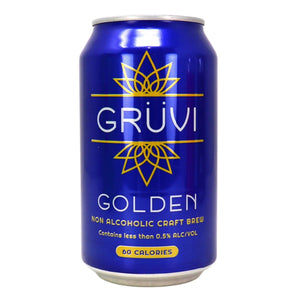 355ml
Price per unit. Comes by the unit or pack of 6. Select 6 times this product for 1 case.
Tastes like beer, feels like freedom.
While fancy and ultra-hoppy flavor profiles have their place in the world of beer, sometimes you just want something classic and familiar.
That's why Grüvi created the Golden Lager — a crushable beer that's light, crisp, and perfectly balanced.
With a hint of honey, a touch of bitterness, and just 58 calories per serving, this American favorite is ideal for all day drinking.
Plus, it's gluten-reduced, making it that much easier to toss 'em back.
Facts:
<0.5 ABV
Just 58 calories
Vegan
0 grams of sugar
Gluten-reduced (less than 20 PPM)
INGREDIENTS
Water, Barley, Hops, Yeast
Made in Canada