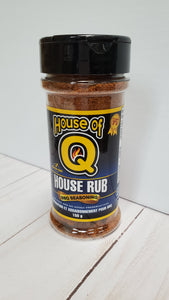 150 gr.
Any BBQ pitmaster knows that BBQ seasoning called a rub can make the difference between getting an award at a competition or none at all.
House Rub is a balanced rub that is equally sweet, salty and fragrant from the onion, garlic and secret spices.
Common Applications
Sprinkle House Rub on chicken, ribs, pork chops or loin before grilling or smoking.
Other Uses
Sprinkled on popcorn, hash browns, french fries, mashed potatoes or even to add spice to candied beer nuts.
Ingredients
White sugar, brown sugar, salt, seasoned salt, granulated garlic, chilli powder, paprika, pepper, celery powder, onion powder.
GLUTEN FREE, MSG FREE and Preservative Free!
Made in Vernon, BC, Canada.