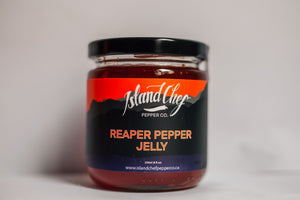 250 ml. Made on Vancouver Island, BC, Canada. 
A thrill seekers spin on a traditional red pepper and garlic jelly. This translucent jelly with suspended shaved garlic and hidden fire bombs allows the consumer  to taste the full fruity flavour of the Carolina Reaper. Caution: This jelly is as addictive as it is spicy.
Island Chef Pepper Co. is a family owned business located on Vancouver Island. We are run by local Chef, Vince Capitano. Our hot sauces are hand crafted and the entire process is personally handled by Vince. It is our goal to ensure that our products provide a flavourful experience that enhances your favourite meal. From mild Serrano to intense Carolina Reapers, there is a sauce for every spice lover.
Ingredients; Sugar, Apple Cider Vinegar, Red Pepper, Carolina Reaper, Liquid Pectin