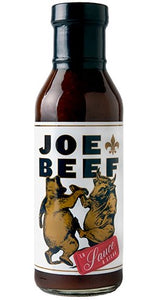 340ml
To recreate the Joe Beef experience at home. The Joe Beef restaurant is considered one of the best in Canada (81st best in the world1 and 3rd in Canada2).
1The world's 50 best restaurants 2015 (51-100 winners list)
2Canada's 100 best 2017
Distinctive features
Joe Beef steak sauce has a light smoke taste and caramelizes during cooking, which brings out its fruity apple and plum aromas. Spicy and smoky, it also has a sweet, fruity side.
Made in Montreal, Canada