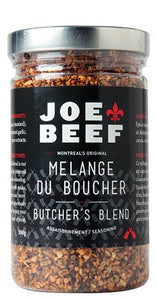 200gr
To recreate the Joe Beef experience at home. The Joe Beef restaurant is considered one of the best in Canada (81st best in the world1 and 3rd in Canada2).
The butcher's blend is a great Joe Beef classic. In fact, it was the first product developed by Fred and Dave for their line of seasonings. This bold blend brings to mind the typical Montreal smoked meat and BBQ flavours that are a major source of culinary inspiration at the Joe Beef restaurant. The butcher's blend contains no preservatives and is made with 100% natural ingredients.
Maxime Lavoie, owner of the BBQ Québec shops and media columnist, has recommended it in Le Soleil1 as "a BBQ season must-have".
Ingredients: Spices (mustard), salt, dehydrated garlic, canola oil, spice extract. 
Made in Montreal, Canada