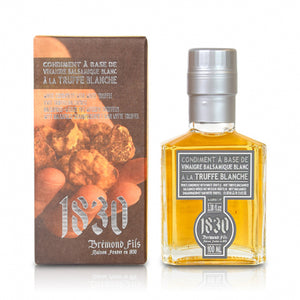 100ml
When two jewels of Italian gastronomy come together it makes for a happy marriage! This marriage comes from the know-how of a family business expert in the production of balsamic vinegar located at the foot of the Apennines Modena in Italy. She had the idea of combining the incomparable white balsamic vinegar of Modena with the prestigious white truffle of Alba.
White balsamic vinegar is made from the grape must of Trebbiano bianco which is an Italian white varietal produced in Modena in the region of Emilia-Romagna. It is then filtered to make it clear and transparent. It is therefore not an aged balsamic, as it would lose its colour in the barrel. It is subtle and refined. Sublimated with Alba white truffle extract, "Tuber Magnatum Pico", found mainly in the Piedmont region, it is a subtle alliance of the sweetness & fruitiness of white balsamic vinegar and the inimitable unique taste of white truffle.
Gourmet pairings: Risotto, mashed potatoes, salad, fish, deglazing red meats, scallops or fresh foie gras.
Ingredients: Cooked grape must, wine vinegar, balsamic vinegar from Modena PGI 5% (wine vinegar, cooked grape must), truffle flavor, white truffle extract 0.1%. Contains sulfites.
Average for 100g/ml: Energy: 1220 kJ / 287 kcal • Fat: 0g • Whose saturated fatty acids: 0g • Carbohydrates: 67,7g • Of which sugars: 67,7g • Proteins: 0,6g • Salt: 0 , 06g.
Origin: Italy.