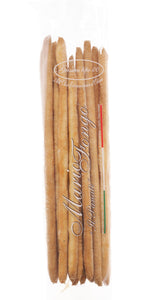 200gr
Traditional hand-stretched breadsticks made exclusively from water, flour, salt, yeast, a little lard and extra virgin olive oil entirely produced in Italy. With their unmistakable fragrance, they combine perfectly with any type of food.
INGREDIENTS: Type "00" soft wheat flour, Extra virgin olive oil, Lard, Malt, Salt, Yeast
THE PRODUCER:
"Il panaté", this is how people in Piedmont call their village baker, and Mario Fongo still likes to identify his firm with this term, since it is a place where delicious bread specialities are baked every day, to uphold the principles of genuine fare and tradition which have inspired his activity from the outset.
A great passion and the use of excellent ingredients: these are the simple secrets behind the deliciousness of Fongo products, baked with the care that only a great passion can guarantee.
The rubatà signifies tradition, right down to its name, which means "fallen" in the local Piedmont dialect. It consists of rolling over a traditional breadstick dough so that it takes on a very compact consistency. Mario Fongo's rubatà vary in length from fifteen to thirty centimeters and have a distinctive nubby appearance.
The rubatà is the oldest shape of breadstick: the story goes that it was baked for the first time in 1679 at the Savoy court by the court baker, Antonio Brunero. He was following the instructions of the doctor Teobaldo Pecchio, and invented this recipe to feed the future Vittorio Amedeo II, who was sickly and unable to digest any bread apart from the crust. The rubatà met with immediate success, so much so that one of its better-known fans was Napoleon Bonaparte, who even organized a courier service to transport what he called 'les petits bâtons de Turin' from Turin to Paris. Today rubatà breadsticks continue to be very much appreciated in Italy and worldwide. For years Mario Fongo has been producing his rubatà with mastery and care, and today this classic of Piedmont cuisine has been interpreted in several tasty versions to recall the typical aromas of the Mediterranean Sea.