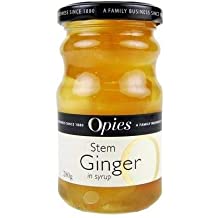 280 gr
Stem Ginger, Sugar & water.
Opies Stem Ginger in Syrup can be eaten with Cheese & Biscuits, added to your Brandy or Whiskey or whatever takes your fancy.
Can also be eaten straight out of the jar – simply delicious.
Only the finest young stem ginger harvested in Southern China is used and carefully preserved in a sugar syrup. Ideal as a dessert with ice cream, use it cakes and cookies or add to some rhubarb for added zing.