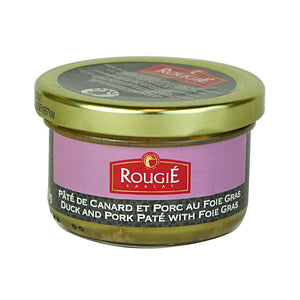 80gr.
A classic of French cuisine, Duck Pâté with Foie Gras has the meaty flavour of pork and duck meat, the buttery liver-like richness of duck foie gras and the subtle flavour of Tawny Port. The main feature of a pâté is that the ingredients are steamed in their own juices.

Rougie's Duck pâté with Foie Gras is an elegant appetizer served with a green salad. It can be sliced and portioned and topped with chutney or red onion marmalade for easy canapés. To fully enjoy its full flavour, Rougie recommends keeping things as simple as possible:

- refrigerate before opening
- take lid off and remove pâté from the jar
- serve with a knife
- spread on toasted bread

- Ingredients: Pork, duck, duck foie gras, duck liver, whole liquid eggs, tapioca starch, Port wine (Tawny Port, salt, pepper, sulphites), salt, gelatine, modified milk ingredients, spices, sodium nitrite. Contains milk, eggs and sulphites.
Origin: Canada