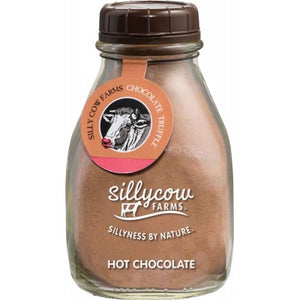 479 gr. GF.
Sillycow Farms Hot Chocolates are all Certified Gluten Free, Non-GMO and Made with Only Real Ingredients! They are packed in a nostalgic real glass milk bottle which is a wonderful collectible… but is also reusable in many other useful ways. Our Chocolate Truffle lets you experience the rich luxury of melt-in-your-mouth truffles.
INGREDIENTS: NATURAL CANE SUGAR, DUTCHED PROCESSED
COCOA (WITH ALKALI) & SEMI SWEET CHOCOLATE MINI
CHIPS (DRIED CANE SYRUP, UNSWEETENED
CHOCOLATE & COCOA BUTTER).