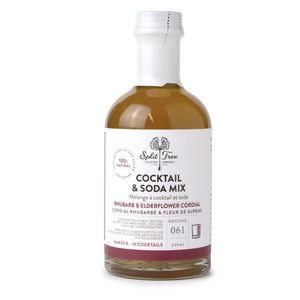 250 ml. Cocktail Flavoring
This is not your grandmother's cordial, though we're sure she's lovely. Made with whole, fresh rhubarb, lemons, elderflower, and a hint of sugar, this cocktail mix hits all the best notes: sweet, tart, and subtly floral. In a class of its own, our sophisticated, mature Rhubarb & Elderflower Cordial offers a unique, delicate combination of ingredients to elevate any drink. Experience a refreshing cocktail with an authentic craft taste.
Ingredients: water, whole rhubarb, elderflowers, lemon juice, sugar, citric acid
Tip! Miss summer? Muddle fresh mint in your Rhubarb & Elderflower cocktail for extra flavour and aroma!
A typical drink will use between ½ oz and 1 oz of our mixes
Each bottle will make 8-16 drinks
Only 2g of sugar per serving
Made in Ottawa, ON, Canada