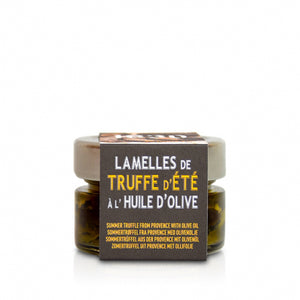 50gr
The perfect product to sublimate dishes from the simplest to the most sophisticated. And, of course, the famous truffle brouillade by subtly adding a few slices of truffle with its oil at the end of cooking.
Truffles from Provence. A rigorous selection of this year's most beautiful summer truffles year preserved in extra virgin olive oil. Ready to use.
This is the story of a hill overlooking the valley of Ginasservis in Haute-Provence. On this hill, more than 20 years ago, a man started planting truffle oaks. Today, more than 500 of them offer their leaves to the breath of the Mistral. Every day, Bernard Villermet walks this wood that he created with his hands, in the company of Zoé, his 7 year-old dog. Twice a year, Zoé "digs" the Truffle, as they say in the trade. In winter, she finds black truffles "Tuber Melanosporum" and from May, the summer truffle known as "Tuber Aestivum". But for now, the walk is over: it's time to go home.
Food pairings: On scambled eggs, baked potatoes, on toast with foie gras, in pasta, rice or in a salad with poultry livers.
Ingredients: Extra virgin olive oil 59.6%, summer truffle (Tuber Aestivum*) 40%, aroma. *Origine Provence.
Average nutritional values for 100g/ml: Energy : 2224 kJ / 536.4 kcal – Fat : 59.6 g – Of which saturated fatty acids : 7,g – Carbohydrates : < 0.1g – Of which sugars : < 0.1g – Protein : < 0.1g – Salt < 0.1g.
Origin: France.