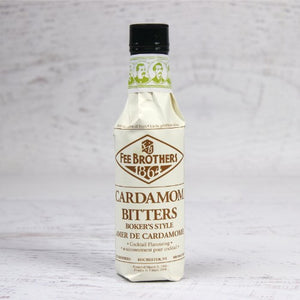 150 ml. Alcohol free bitter, suitable for alcohol free drinks! Vegan. GF.
Ingredients: water, glycerine, natural extracts, natural and artificial flavours.
Cardamom Bitters will add a potent kick to your mix! Made from a mixture of botanicals and spices steeped in spirits, Cardamom Bitters has a pronounced root beer, citrus and cardamom flavour. It is used by cocktail connoisseurs and cutting-edge bartenders to enhance the flavour of any spirit and is excellent in brandy with lemon peel or in a Martinez, gin and vermouth with maraschino cherry.