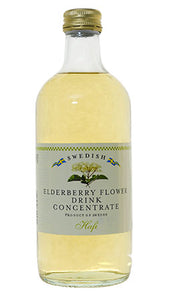 500 ml.
Put a new Swedish freshness to your water, mineral water or white wine. The syrup from the elderberry flower has become popular because of its fruity and distinguished flavor.
Mixed with water or mineral water our elderberry syrup is excellent to flavor any vodka/gin combination or your home made sorbet/ice cream.
Ingredients:elderflower juice, sugar, water, citric acid.

No preservatives, no artificial coloring or flavors.
Refrigerate after opening.