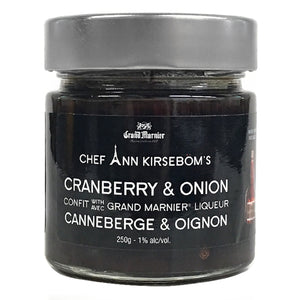 240 gr.
Ingredients: Onions, Cranberries, Vinegar, Sugar, Extra Virgin olive Oil, GRAND MARNIER liqueur.
Our newest product, to join our intoxicating line of gourmet products, is made in small hand crafted batches with local cranberries and a splash of French orange/Cognac Liqueur for a gorgeous finish!
Our luscious Cranberry & Onion Confit is a delicious accompaniment to any roasted meat and poultry, especially Pork Tenderloin, Roast Chicken and Roast Turkey – try it in your Turkey Sandwich!
Our Confit is also lovely paired with fine cheeses such as chevre , Boursin and blue just to name a few of our favorites.