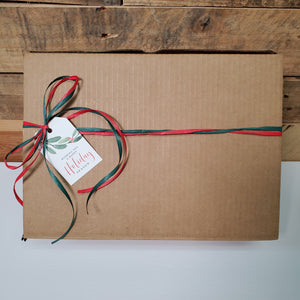 Want to ship a custom gift? Start here!
This is your box, add it your cart and some other products, and at c/out you can choose to pick up in store (for free) or have it shipped anywhere in Canada (shipping rates apply).
This box (13" x 9" x 4") can contain an average of 5 products. For some ideas of what we can fit in a box, check out the "Mail or Go gift Boxes" collection here. If your items don't fit the box, we will get in touch with you about other shipping options.
The price of this box includes: 1 box with crinkle paper, padding, wrapping and processing.
Starting November 12th and until December 31st, all our gift baskets and boxes will be tied with seasonal colored raffia (red and green). Let us know if you prefer neutral colors instead.
Adds on available (add your cart and we will include them with your gift basket):
Option to pick up in store for free or ship at c/out.
Shipping available for Canadian addresses only.
Order will be processed within 1 business day (Tuesday to Sunday).
Delivery time options offered to checkout. Please check Canada Post estimated shipping times for December 2022 here.
Eden West Gourmet is not responsible for delivery time and delays. A tracking number will be provided for your own tracking via Canada Post.
Shipping rates provided by Canada Post and calculated according to weight, delivery address and choice of delivery time.