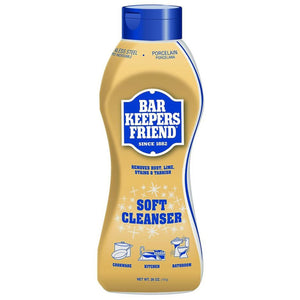 737 gr
Contains all of the ingredients in the original powder version plus some. A food grade thickener has been added to suspend the scrubbing micro-particles.
- Bar Keepers Friend Soft Cleanser is a multi-purpose cleaner for everyday cleaning and for tough stains including rust and lime.
- Features a soft creamy texture that is perfect for stainless steel, tile, porcelain, ceramic, glass cook tops and more.
- Cleanser is great for your kitchen and bathroom.