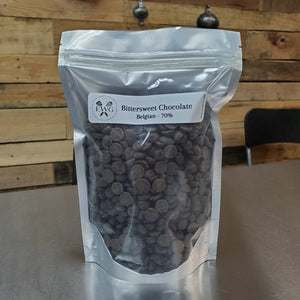 500 grams
Ingredients: Unsweetened chocolate, sugar, cocoa, soy lecithin added as emulsifier, natural vanilla flavour. May contain traces of MILK
This is perfect for dark chocolate lovers. Callebauts contains 70% cocoa. Ranked with a fluidity level of 2 (out of 5), this is an excellent general-purpose chocolate. Ideal for baking, enrobing, ganaches, decorations and more. Take your chocolate creations to the next level of taste and intensity. These chocolate callets (ie. chocolate chips) are made by Callebaut, the famed chocolate producer. The Callebaut brand is preferred by professionals and is a higher quality chocolate than standard consumer brands found at the grocery store.
With this chocolate, you support cocoa farmers
The Finest Belgian Chocolate needs the finest cocoa beans. Today and tomorrow. For every pack of Finest Belgian Chocolate you buy, we reinvest a part in sustainable cocoa farming through the Cocoa Horizons Foundation.