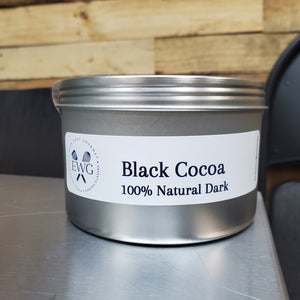 225 grams 
Bensdorp Natural Dark is 100% natural, packed-with-flavor and set to take the industry by storm. At a time when health-focused consumers are increasingly seeking out products with natural ingredients and minimal artificial processing, Natural Dark provides the answer. This cocoa powder's alkalization-free process hits all the right notes on flavor and has the deep, dark color you know and love while retaining its natural credentials.
For the past 180 years, it hasn't been possible to keep the delicious, flavorful character of cocoa AND ensure that a product is made naturally without the alkalization process. Until now. By cutting out this chemical processing step and still obtaining a dark color and rich flavor, we challenge the perception that these favorable attributes do not belong to natural cocoa powders.
The secret lies in our alkalization-free production process. The rich, chocolaty taste of many cocoa powders comes from alkalization or 'dutching,' a process which enables manufacturers to create richer and darker cocoa powders. 
In traditional cocoa powder production, once the beans have been cleaned and the shells have been removed, the cocoa nibs are mixed with an alkali agent to mellow the flavor to the bean. This process has an impact on everything from the color, which changes from medium brown to intense black, to the taste of the cocoa powder. 
However, while alkalization enables a broader range of color and richer flavors, alkalized cocoa powders cannot be regarded and claimed as natural cocoa powders.
Ingredients: 100% pure cocoa