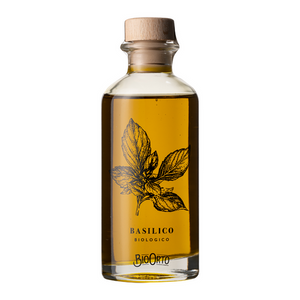 200ml
Bio Orto basil oil: intense Italian flavors in a small bottle
This small bottle of Bio Orto is a delicacy on the table! The aromas of this olive oil immediately transport you to sunny Italy. Bio Orto created this tasty herbal oil by pressing two typical Italian ingredients: Peranzana olives and basil. You get a delicious basil oil with a delicate, pure taste that makes your mouth water.
The artistic basil drawing on the small glass bottle looks stylish and great on the table and counter. Italian through and through.
How do you use Bio Orto's flavoured basil oil?
Give your dishes an instant Italian twist with a dash of this flavoured basil oil. Delicious on salads, with fresh cheeses such as mozzarella and with meat and fish. Simple and pure, but so delicious!
Peranzana olive oil provides a herbal oil with a range of aromas
The Peranzana olive is a primordial variety, the tree of which cannot be cultivated, but follows the flow of nature. These emerald green olives only grow in optimal conditions. This explains their characterful fruity taste with numerous aromas and you can taste that in this olive oil!
Ingredients: Extra virgin olive oil* (94%), fresh basil* (6%)