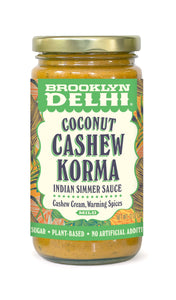 354 ml. Vegan. GF
Korma equals comfort food.  I put my own spin on this curry house staple, replacing the dairy in the original recipe with organic coconut cream, pure cashew butter and a bit of shredded coconut for good measure. The result is a delicate, luxurious sauce with a hint of cardamom and black pepper.
Also note, my simmer sauces are all mild so you can make them for your household and each individual can modify the heat with one of our achaars. That's how we do it at home. Feed our toddler the sauce with veggies and a protein, grain and yogurt and then we layer on our achaars for kick!
 Directions: Add 1 jar of our Korma sauce to 1 lb sautéed chicken, tofu, paneer or veggies.  Add 1/4 cup water or up to 1/2 cup coconut milk or cream for a richer sauce.  Simmer until heated through. Serve with a dollop of plain yogurt and Brooklyn Delhi achaar (optional) over rice or with naan.
Ingredients: water, onions, organic coconut cream, tomato paste, non-gmo expeller pressed canola oil, coconut, ginger, lemon juice, garlic, spices (including turmeric), tamarind, salt, non-gmo cashew butter.