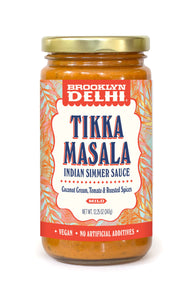 354 ml. Vegan. GF
Tikka Masala is my guilty pleasure. I love the flavor so much I figured out how to make a healthier version that was just as delicious and vegan so I could enjoy it more often.  My tikka masala sauce is layered with luscious coconut cream, tangy tomatoes, caramelized onions, fresh garlic and ginger, and an aromatic blend of warming Indian spices and sweet paprika
Also note, my simmer sauces are all mild so you can make them for your household and each individual can modify the heat with one of our achaars. That's how we do it at home. Feed our toddler the sauce with veggies and a protein, grain and yogurt and then we layer on our achaars for kick!
Directions: Add 1 jar of our Tikka Masala to 1 lb sautéed chicken, tofu, paneer, jackfruit or veggies.  Add 1/4 cup water or up to 1/2 cup coconut milk or cream for a richer sauce. Simmer until heated through. Serve with a dollop of plain yogurt and Brooklyn Delhi achaar (optional) over rice or with naan.
Ingredients: water, onions, organic coconut cream, tomato paste, non-GMO expeller pressed canola oil, garlic, spices (including paprika and turmeric), ginger, tamarind, lemon juice, contains less than 1% of brown sugar, salt, fenugreek leaves.