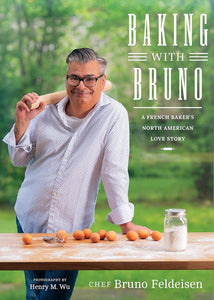 Signed by Bruno himself!
156 pages, published in 2020 by Whitecap Books Ltd.
A 2021 IBPA Benjamin Franklin Awards Silver Medalist
About the Author
Bruno Feldeisen has worked at Le Louis XV (Monaco), Patina Restaurant in Los Angeles, and in the kitchens of Four Seasons hotels throughout North America. Currently he splits his time between being Executive Chef at the Semiahmoo Resort in Blaine Washington, and a judge on CBC's Great Canadian Baking Show. Bruno Feldeisen lives in British Columbia.
Visit Bruno's web site at www.brunofeldeisen.com.
In 1988, I embarked on a search of new horizons, open spaces and new flavours, and landed in New York. That is a journey I have never regretted -- a North American love story where I have cooked alongside cooks from every walk of life, in cities as vibrant as my curiosity.
I discovered that food in North America was tasty, exciting, culturally rich, and that deserts were delicious. . . I learned how entrenched baking was here, how centuries of immigrants from Holland, Germany, Italy and other distant places made this a land where I would learn and discover.
Many years later, I still get excited, learning new techniques and recipes. My kitchen is the heartbeat of my house. Let the sweet smells of baking create long-lasting memories!