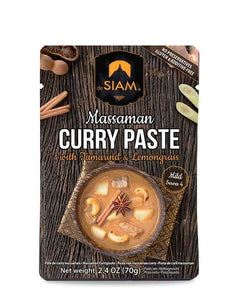 Mild and aromatic curry from South Thailand 
Prepare & Use:
 Stir fry curry paste to release the aroma, mix with coconut milk then add meat and vegetables.
Ingredients:
Sunflower Oil, Shallots, Garlic, Salt, Lemongrass 6.40%, Chilli, Ginger roots, Coriander Roots, Galangal Roots, Coriander Seeds, Cardamom Seeds, Cumin Seeds, Cumin Seeds, Tamarind 1.80%, Cinnamon, Cloves, Kaffir Lime Leaves, Coconut Sugar, White Pepper, Lime Juice.
No preservatives, no additives. Gluten Free. Vegetarian.
Allergens:
 allergen free.