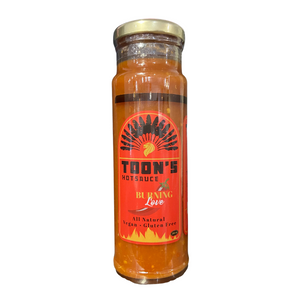 250ml. Vegan. GF.
The hottest sauce of the Toon's trio!!! 
Toon's Hotsauce is a local, vegan, preservative free, artisanal, small batch brewed and bottled in a HACCP certified plant in BC, Canada. Our hotsauce was developed by Chef Toon, a Vancouver based chef with more than 27 years of experience in the F&B industry.
Toon's Hotsauce is inspired by the rich culinary history Singapore and the blending of other world cuisines.
Toon's Hotsauce has some heat, and as per our tag line ours, is "A Different Kind of Hotsauce", with a complex, umami flavour profile that compliments Asian, South-East Asian, Italian and Latin American food
Ingredients: 
White Distilled Vinegar, Water, Habanero Pepper, Onion, Crushed Tomato, Garlic, Serrano Pepper, Thai Chili, Sugar, Mushroom Extract, Salt.
Small batch brewed in Vancouver BC, Canada.