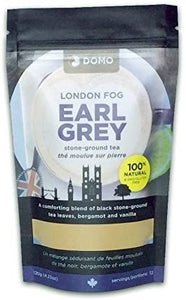 115 gr. Made in Vancouver, BC
This tea has won over London Fog addicts all over the world! No need to order one at the cafe - now make your own at home with a comforting blend of stone-ground authentic black tea, bergamot and all-natural vanilla.
Ingredients: Organic evaporated cane juice, natural stone-ground black tea leaves, all-natural bergamot, all-natural vanilla flavour.