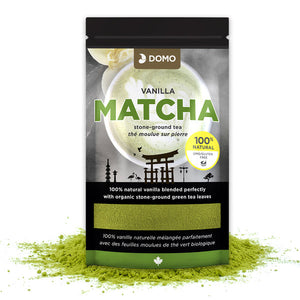 115gr. Made in Vancouver, BC  
Healthy and subtly sweet, such a treat without giving a twitch to your feet.
DOMO™ Vanilla Matcha contains the same high quality shade-grown, green tea leaves as found in our Pure Japanese Matcha, not a lower, food-grade version. It is then lightly enhanced with vanilla and organic cane sugar.  Because it contains L-Theanine, a naturally occurring free-form amino acid, you get your caffeine without the jitters. 
Mixes best with a bamboo whisk. Be a whisk-taker and try it out!
Micro-ground tea is healthier than regular steeped tea because you consume the entire leaf. This has the added benefit of no tea-bag waste and reduced clean-up as there are no diffusers necessary!