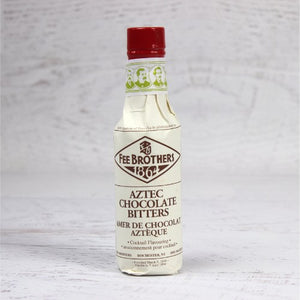 150 ml. Alcohol free bitter, suitable for alcohol free drinks! Vegan. GF.
Ingredients: water, glycerine, natural and artificial flavours, caramel colour and tartaric acid.
 Ancient Aztecs would celebrate with a bitter beverage made of cacao beans, peppers and spices. This is a superb dark chocolate bitters with a hint of vanilla. Aztec Chocolate Bitters is used by craft-cocktail mixers in classic whisky drinks such as an Old Fashioned or a Manhattan, and can be added to liqueurs such as Cassis or Framboise, and is delicious in culinary preparations including ice cream and sorbet.