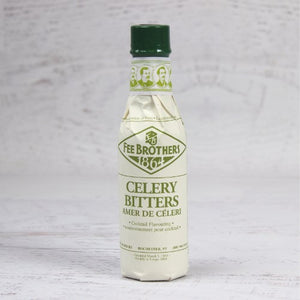 150 ml. Alcohol free bitter, suitable for alcohol free drinks! Vegan. GF.
Ingredients: water, glycerine, flavours: natural celery flavour and other natural spice extracts and flavours.
A dash or two is all you need! Celery bitters has a potent celery taste that is both herbaceous and bright and only small doses of this is the best way to go! Fee Brothers Celery Bitters adds dimension and flavour to cocktails as basic as a classic dry martini or as complex as an Ephemeral, made with gin, vermouth, elderflower liqueur and grapefruit peel. It can also add extra kick to an uber-spicy bloody mary. Keep an extra bottle on hand for cooking—try Celery Bitters in gazpacho, basic soup stock, or in homemade chutneys and relishes.